Tale of two birthdays – continued
I love birthdays. Birthdays are the best excuse for making cake that I know. And it's like bottling happiness. Presenting to people a birthday cake that you made for them, is like popping the cork to the bottle, it's the most surefire way of making people happy. The last time I made my mum smile is when I made her a birthday cake.
Making food for birthdays also gives you the excuse to go the extra mile. You're not going to spend the day making a cake just for anyone or for any day. But when it's a good friend and it's their birthday , then there's something rather satisfying about spending all day in the kitchen making something special for them, even if it does get gobbled up as the same time it takes you to eat your evening tea.
It's perhaps of a discipline thing? In fact, the reality is that like I can't be bothered to spend my Sunday stuck in the kitchen unless the weight of expectation bears down on me?
It was only last month that I discovered that the weight of expectation that bears down the heaviest, when it is that of your own birthday and moreover, of all the guests you've invited, have one way or other endured many of the burdens associated with all the supperclubs and practice dinners that you've put on.
So my birthday… I had the same idea as for Freddie's. I wanted to be a guest not a cook and although I wanted to make something delicious for the party, I didn't want anything as formal as a supperclub. SO I figured a DIY BBQ where people help themselves to salads and cook their own meat as they want it would be the perfect solution.
And Terry helped, that much must be admitted, so all the work of putting together six salads was reduced into something manageable, enjoyable so. And when nobody actually did grasp the DIY nature of the BBQ, Terry took up the role of head chef at the BBQ and got to work feeding the masses. He also had a pervasive influence over the theme of the food on offer, which mostly ended up being Thai, with Red curry sausages that we made ourselves, lemongrass pork patties, chicken wing satay on the BBQ, and salads like mango and noodle, edamame and coconut, Thai basil potato salad etc. Don't ask me how it happened – there was no explicit request or suggestion but probably just enthusiastic agreement to any vaguely Thai suggestion that I made.

Having sorted out the food element, next year I might focus on the fun element. At times it did feel like I was just running a soup kitchen.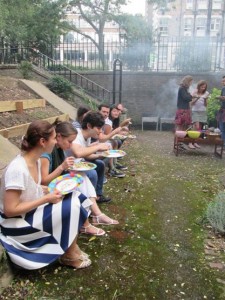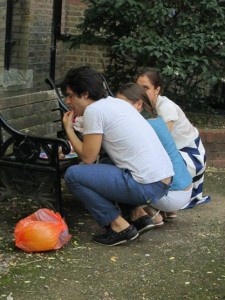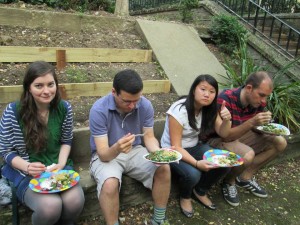 I did eventually get round to enjoying my birthday – pub at the end of the day helped out with that. Each year the lesson is the same. Don't cook for your own birthday- and each year I forget. So until next year guys. x