So not very long ago, a good friend asked me to cater for his birthday: Freddie, who of course is widely remembered for his star front of house turn at a few of my supperclub dinners, and who along with a few other friends, working super- (semi) professionally to put all the food on the plate and get it all served to the guests piping hot.
What they lacked in experience they made up in personality! I think. But anyway, its probably not for me to harp on about lack of experience…
So I was not only flattered but rather obliged when Freddie suggested that I help him out with dinner. The whole set-up was rather different from the supperclubs that I'd managed previously. For one, it was more akin to an casual summer BBQ than anything as formal as the 6 course + petit fours supper club that I've done before. Secondly I was a guest so I'd be damned if I was going to follow the format of the supperclubs which see me working and clearing up to 1am.
So this time I took inspiration from an old time favourite – Ottelenghi who more than any one I see as writing great recipes for party food. I remember seeing a recipe of Ottelenghi's, placing a large serving bowl of quail for everyone to tuck into and tear apart with their fingers which I thought would be fantastic for Freddie's birthday. Only proviso being that the event was really more of an English summer garden party (with perhaps more booze and a little less decorum ) so I wanted to stay true to that style of event and Ottelenghi's quail recipe was too Middle Eastern to work. So instead I roasted it off for 12 minutes with a lovely brown sugar and mustard glaze and piled them high as you like in a bowl topped with crispy streaky bacon, dressed asparagus, spiced walnuts (which due to the comments they received a special shout out has to go to the Martha Stewart Recipe I used) and a fantastically sharp sorrel sauce which usually goes with cod but worked brilliant to lighten and freshen the roast quail. Disclaimer: some of these photos are taken on my blackberry others on an iPhone (I'll leave you guess which is which). Suffice to say: Blackberry, you need to sort it out…
I won't go into the palaver that went into us scaling down the planned hog roast to a joint in the oven. To be fair "joint" doesn't do it justice, it was like a Jurassic sized femur of hog which could have fed the fifteen of us, eight times over (so I'll leave to you to guess why we decided against the whole hog roast). I will say with pride however, that I dealt with this change of plan quite admirable and after scoring the skin, I poured boiling water over the scores and salted it in a way that Delia Smith would have been quite satisfied. And with these simple actions and an 8 hour slow roast in the oven, there was a quite delectable main fit for any fancy restaurant and even one of my supperclubs. Salads were entirely courtesy of Ottelenghi's recipes, I and 14 others can vouch that the new potato pesto salad (half the basil replaced with parsley) and the roast cauliflower salad recipes (without the raisins which was one of those pesky ingredients in the recipe detracting from my "English summer" theme) are really rather good.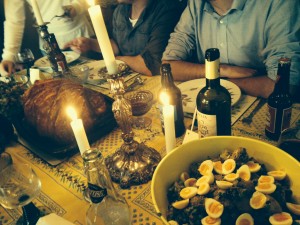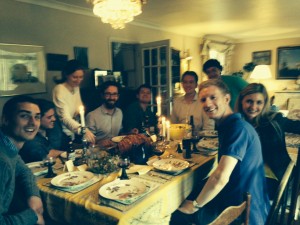 In fact given the praise that the main got, and the genuine simplicity of putting it together, I couldn't help wondering why people ate out at so much. Dessert was the piece de resistance and something I was both delighted with and slightly disappointed with at the same time. A few months on, I can barely remember the anxiety I suffered about the dessert. I wanted the dessert to share the same sharing characteristics of the starter and main, and like the prior two courses I wanted there to a spectacle to it- to contribute to this idea of celebrating – banqueting if you like. The tower of quails and the enormous joint of meat was an easy way to create that spectacle without too much effort but my ideas for super-visual desserts weren't getting very far beyond meringues, multi-tiered cakes and other ideas that involved more effort and time than I was able to give. And then I hit (quite literally, albeit in an Internet Explorer sense) upon the glow in the dark jelly!
A truly brilliant creation which relies simply on the chemical in Indian Tonic Water – Quinine. And from that it came together, glow in the dark Gin and Tonic jelly, lemon drizzle cake and lemon mint ice-cream – jelly, cake and ice-cream. The stress, and when I say stress, I mean the kind of thing that keeps you awake at night came from the damn castle shaped jelly mould that I wanted to use (and had made Freddie buy). I tried the jelly in multi-coloured layers, the turrets slid off. I tried the jelly as a single layer, the turrets fell off. It tasted lovely but looked a mess. So I took the hard decision to add more gelatine (which from a purist's perspective is not ideal, as the texture of jelly is said to be best with as little gelatine as is needed) and lower the sugar content. I also ended up buying two further moulds as back-ups and making three times the jelly mix I needed to fill each of them. Thank god for Freddie's three fridges. So prior to the point of demoulding Freddie's jelly, after two successful courses, I had not yet experienced a successful demould. So what happened? This: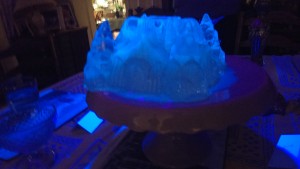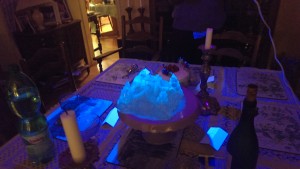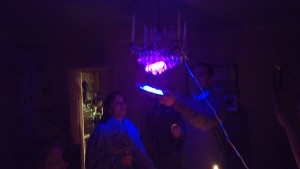 It did look amazing and its wonderful to get that reaction from people, especially when they haven't even eaten it yet! Although maybe that was for the best, I think flavourwise, the reduction in sugar regrettably made the jelly less tasty than all my messy practise jellies. And I'm not even sure that I really needed to reduce the sugar content to stabilise the jelly. Interestingly however, I couldn't really feel the presence of the extra gelatine so all that worry over nothing. So all in all, it was a lovely evening. It wasn't all about the food of course and Freddie put lots of thought into the whole evening so I'm definitely glad I decided to prioritise my role as partygoer over that of cook. Thanks Freddie for asking me to do this and I hope you had a good time Xxx

But – this is a tale of two birthdays and so the story is not yet over…
The next birthday was my own.