So with my customary lateness, I can announce that the Christmas market stall is over, and I sold 40 out of 45 portions of Guinness Lamb.  And here's what I learnt:
7 Shoulders of lamb will give you 50 portions of lamb at a push, not 70 portions
A student Xmas market is not the place to sell gourmet food – you know when the chorizo sausage in a bun is outselling you 3 to 1- you got your audience wrong
The potato layer cake is the way to go, the sourdough trencher (while delicious if someone had actually tried to order it), is not the way to go.
The mulled gingerbeer is a keeper, it hardly sold at all at lunchtime but after lunch, it was all anyone wanted. If I hadn't drunk such copious quantities of it during lunch I could have probably sold all 50 portions of it.
The food was good, I liked it, customers liked it, and some even came back for seconds. I just need to find the right market for it. Maltby St? Whitecross St? Leather Lane maybe?
I need a stronger glue to stick the "COOKSMITH" letters onto my sign. "O" was the first letter to fall. But it wasn't the last… Yes, I know what it spells – I had it pointed out several times – its not that funny actually.
Also, the week after I did my own personal test of bbqing a brined lamb shoulder and an unbrined lamb shoulder. I was hoping to discover that there wasn't a difference (as brining is a bit of a faff) but unfortunately, the brined meat  is noticeably more moist, and seasoned throughout. So looks like I'll stick to brining.
That's all folks. That's what I learnt. That -and the art of brevity.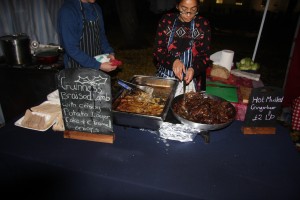 Anyway I'm in Paris at the moment, holidaying and staging at a few restaurants. But I'm keen to get going again once I get back to London. Happy belated New Year everyone!