I've been so looking forward to and dreading an Italian themed supperclub. It was an evening that I had planned from the beginning and even my inability to come up with a snappy title to the October supperclub (Autumn in Italy) had no power to deter me. And so indeed, for most of September all my life skills were put to use to engage in the skilful uncertain art of macaron mastery, pasta making and artichoke preparation.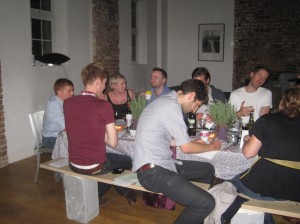 With the October supperclub over, I'm still learning so much!  I've learnt that there is no amount sinfully ugly pasta that can't be made right with a heavy covering of crispy sage leaves and Parma ham, and that nobody expects risotto to look like a work of art (which is good because it does have poor asthetic qualities – although excellent qualities in the eating :-)).
Preparations started early for this supperclub because preparation included practice. Ill-advised friends came over to my once a lifetime Pasta Party, where I was planning on making three kind of filled pasta but by the end of the evening I had to send them away having only had a mere three raviolis per person. Well, I'd cut up some spaghetti as a fallback so it wasn't quite that bad…
Macarons were the next hurdle. What a hurdle, I've made French macarons before but never made them using the Italian meringue method which seemed more appropriate for this supperclub. Four batches of baked macaron were baked before any standard of competence was attained. Its somewhat typical that having gone to extraordinary efforts to get the perfect macaron, I didn't actually take a photo of the macaron filled and trembling on a plate in its chocolate chestnut glory.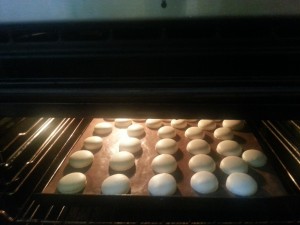 My happy self-satisfaction is expressed with the proviso that I haven't read the feedback forms yet… Bad I know, but for some reason, this month I'm extra nervous, probably because this was the calmest and least stressful month of preparation.  I had a better idea of how to approach it with two supperclubs already done and I knew that I could make the pasta and the gnocci and freeze it. I made my petit fours in advance, the sweet pastry was made the week before, the tart lined and frozen, the ice-cream similarly made the week before. The pork cheeks slow cooked and nestling in its gravy by Saturday morning so come Saturday evening, with the mountain of artichokes having been just overcome, it might have been 2am at that point but I felt ready! And the Sundaybevening seemed to go smoothly. We served dessert at 10pm which was bang on schedule!
We had an earlier start time of 6pm with Rosemary Bellini with caponata gnocchi nibbles on the roof terrace.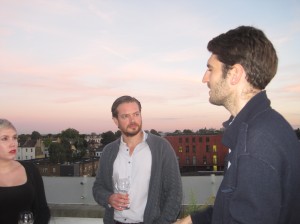 The first sit down course was an amuse buche (served closer to 7 to be honest…) was crispy artichoke stuffed with mint and dill fava beans. I garnished this with an orange zest mayonnaise and some crispy garlic. I didn't salt the artichoke before placing on the plate and although nobody mentioned this on the evening, I wouldn't be surprised if a few people picked up on that in the feedback forms. I'll let you know!
The pasta course was sweet potato agnolotti with sage butter. Sage butter is a classic accompaniment and it was a good companion to the sweetness of the filling. Topped with Parma Ham and crispy sage, I can only point to the extraordinary opaque virtues of these toppings which prevented anyone from noticing the raggediness of the pasta submerged within.
Cauliflower risotto was next on the menu and my least pretty plate. Slop in a bowl and covered in breadcrumbs just about covers it but it got some excellent reviews. Which left me wondering if the substantial time and effort spent on ganishing and beautifying the plates of my other dishes was entirely unnecessary? A conundrum…
Main was pig's cheeks with Tuscan bean stew, Cavolo Nero and Mushroom Ragu. I was torn between giving one cheek or two but caved in and served two cheeks. I was glad to see that the mains were polished off but I think the full tummies took their toll by the time dessert was served…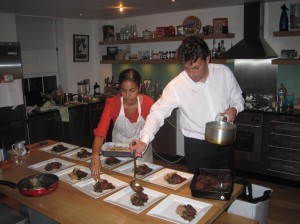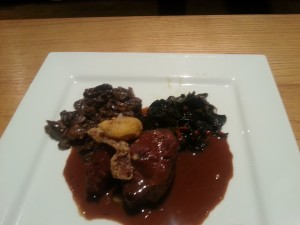 Oreo cookies were next and again no pictures of the finished article. But they were cute although not like Oreos at all. It was Thomas Keller's recipe which basically sandwiches chocolate shortbread together with a white chocolate ganache.
Dessert was a chestnut and quince tart with the chestnut macaron and a chocolate hazelnut ice-cream. I was already confident with the macarons and the ice-cream. You know a good thing when you've made it and I was simply glad to have extra stashes of the stuff in the freezer at home, and everyone did perk up with the ice-cream with nobody thankfully saying that it tasted like Nutella (which is good because it doesn't!).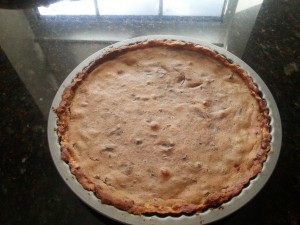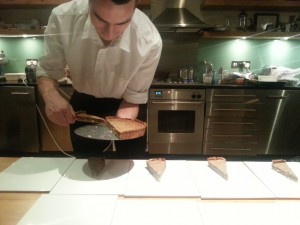 Get those petit fours out was a good moment. Official finish time of…uhm 10.15pm say? Approximately anyway.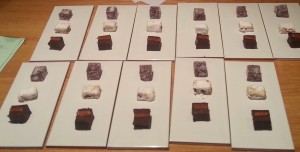 I could say Freddie and Gabriele were model waiters but in fact they were entirely unlike model waiters but more like eccentric hard working friends doing me a favour for the evening, and all the guests commented on how lovely and friendly they were. They were super helpful in the kitchen and I suppose some part of my new found timeliness might be due to their efforts too… Certainly they were a good part of the reason that I felt so relaxed that evening.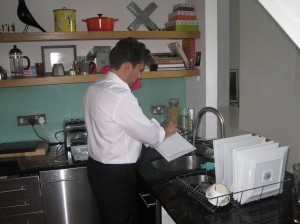 So thanks to them and Ed, and everyone else for coming!