Preparation for this month's supperclub have been so much more stress-free than last month. Almost too stress-free. I was reduced to having a few sleepless nights about how unstressed I was and whether this spelt trouble or not…
Well, maybe I was a little stressed about the food.. Mexican food is truly out of my comfort zone. I've eaten lovely Mexican food in Mexico and so-so Mexican food in the UK but I didn't want to recreate any of that. What I wanted my night to be about – was a chance to use the exciting flavours of the warmer climes mixed in with the traditional French techniques of cooking associated with "fine dining". Which is all fine in theory – except- I didn't really have recipes for that kind of thing so I was taking a punt on my ability to cobble something together. Cobble something outstandingly delicious and refined together. Actually… thinking back… I was pretty damn nervous.
I did raid the bookshelf for a few things that I has tried and loved before. Tom Aiken's vanilla and pink peppercorn cerviche. A variation on Delia's chickpea and coriander soup. I messed around with Denis Cotter's recipes on chard dolmas (re-invented as chard tamales) and his cashew nut loaf which I baked as mini muffins and topped with cumin sour cream. But I hadn't made some of these things before and I was amending the recipes of the rest so with a few of July's diners returning to the September Supperclub I couldn't help but worry if it wouldn't be disappointing for them in comparison…
The Trials and the Tribulations:
First up, the cashew nut muffins were a bit of a headache. Now, I've never made nut loaf before and I'm sure Dennis Cotter's recipe was perfect for nut loaf (as he's never failed me thus far) but the recipe created a batter that was really far too stodgy to make decent muffins so after (a) 6 incremental additions of extra egg, (b) 6 practice bakes of tester muffins, and (c) 6 eaten muffins, I finally had a mix I was happy with.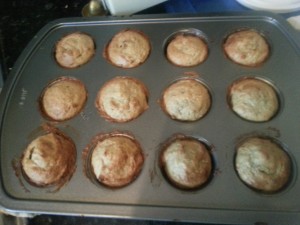 Aren't the muffins adorable! And mini too, which you can't see but they were! Adorably mini.  (You'll have to exclude the pictures however – they were  all taken on my camera phone and there ain't no camera phone out there that can do justice to the Mexican spice fest laid out that evening – biased self-promotion aside).
Next up doughnuts: I've never made yeasted doughnuts at home. I've made a few batches in restaurants wehere I've been doing work experience and minus a decent kitchen aid (or even doughhooks that actually fit into the hand mixer) I'm left with a strong relucatance of trying to make and knead what is a supremely sticky and wet doughnut dough. And then I found Paul Ainsworth's recipe on the internet which basically involved deep frying frozen choux mix and with this recipe to hand – on I forged…
This supperclub preparation was full of "testers". It seems like the first supperclub I held had exhausted my repertoire of "posh" recipes and I found myself amending half a dozen found recipes that I hadn't used before and so in the weeks coming upto the supperclub I was practicing different sorbets and ice-creams, the rice pudding, the savoury muffins, the doughnuts. Wow those doughnuts were a pain. I couldn't make them work from frozen, they would cook on the outside but not the inside so many attempts later I found they worked best if you didn't freeze them but you partially prebaked them (like profiterols) and then deep-fried them.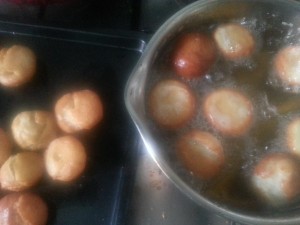 The doughnuts had to all be done on the morning of the supperclub for freshness and the coriander chutney was piped into the doughnuts just moments before serving. Really. How did I manage not to stress about this!
The main dish led the charge for being the most vexatious dish on the menu. Stuffing slow cooked lamb with a spicy chicken mousse seems good on paper. I think it sounds positively tasty on paper actually. But the move from "fancy menu item" to reality required nerves of steel and steady hands to roll the mess that was the stuffed lamb, into a clingfilmed sausage ballotine to be poached in hot water. I do actually have a picture of the mess that was the pre-ballotined stuffed lamb but I won't test your credulity and share that photo. All that needs to be said for any keen ballotiners out there, is – persist. Against all reasonable belief, once poached the clingfilmed lamb will actually hold its shape. An unsolvable mystery of life.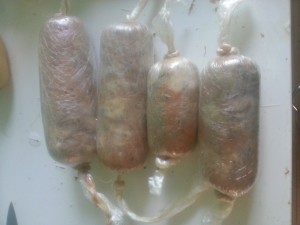 So much more to say but I'm limiting my wordcount to items that I have pictures of. And we are left with a really quite random picture of some peppers laid out on a tray for roasting.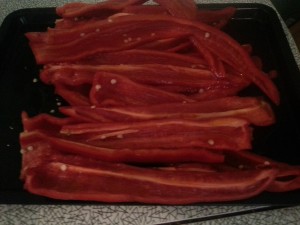 Roasting the peppers was really quite a last minute thought but I had the inkling that for a Mexican main, the dish was really rather beige looking – what with the meat and the sauce and the breadfruit dauphinoise… I though a splash of julienned red pepper would look rather nice. And with the success of last month's confited tomato, I prepared it in a similar manner, (low temperature, long cooking time) and 4 hours later, out popped some confited pepper. This confiting lark is really rather tasty.
Anyway onto the next post – the supperclub itself – where it all finally came together. All the experiments and testers of the last month proved their worth because the event passed smoothly, probably more smoothly than July and the quality was more consistent. I'll admit though, given that dessert was served around midnight, we overran slightly… I think the October supperclub will need to start earlier in the evening – probably 6pm. Don't be late, you know who you are (everybody basically!)