Thanks so much to everyone who came to my first ever supperclub. I had so much fun (although wow- am I glad its over!). Everyone came with such a positive attitude and determined to have fun and its so nice to hear at the end of the night that all the guests enjoyed the food and the evening!
For my part I made a decision to relax and not do the stressed, frantic thing. I was lucky because two of my friends, Helen and Gabriele helped out on the night and they were invaluable. Because I'd spent so much time making all the food myself at my own pace I hadn't realised how much help I'd need actually serving the food quickly and efficiently and both Helen and Gabriele more than faced up to the challenge.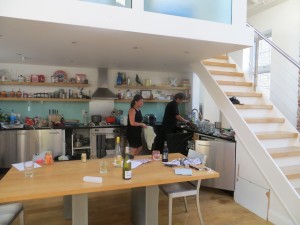 Things were also made easier by the venue which was in Ed's flat in Clapham and triggered some reverential silence from the guests upon entering the apartment and to be perfectly honest, probably contributed to all the positive comments at the end of the evening because who can fail to enjoy an aperitif on the roof terrace and dinner in the vast expanse of a fancy penthouse.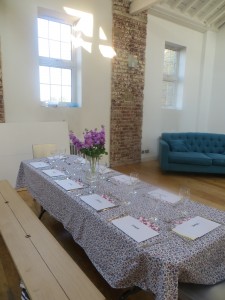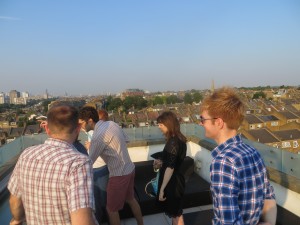 After an elderflower cordial and sparkling wine aperitif and a selection of homemade pickles (carrot and mustard, radish and tarragon, and mushroom and juniper) everyone came down for diner. Cold starters functioned perfectly, maybe a little too smoothly. The first course, starter, and subsequent third course came out in quick succession. Three courses and we hadn't even reached the main course! The first course was a smoked quails egg, wrapped in dry finely chopped mushroom and smoked breadcrumbs (what can I say I'm a fan of smoking) and then panned again in Panko.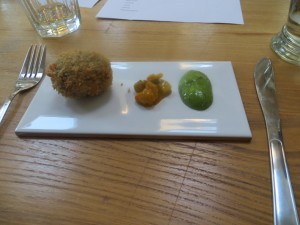 The tomato sorbet was a Thomas Keller recipe and I was really impressed by this sorbet. Not only did it taste fantastic (all of the supperclub guests agreed) but it was a wonderful soft set sorbet so there was no faffing around with taking it out of the fridge 10 minutes before. The velvety smooth texture meant that my total inability to quennel was, at that moment, overcome and I am now an accomplished two handed quenneler of soft set tomato sorbets. The sorbet came with a tomato confit, tomato salad, chive oil and garlic tuille.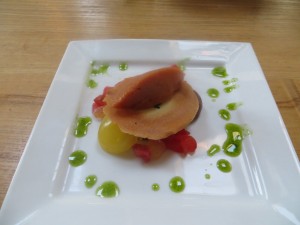 Skipping onto the pea soup, I made this the day before and froze it in a bid to preserve its freshness. I don't think I quite managed to preserve it completely though as the texture wasn't as velvety smooth as the day before although the flavour was still sweet and delicate. However, next time I think with a very fresh smooth soup like this, I will need to make it on the same day as serving. To accompany the soup, inspired by the flowerpot bread that we made at the cookery school, I made some garlic bread in a similar fashion. I mixed some roasted garlic into the dough and although it was wonderfully garlicky, the next time I might make it less garlicky and instead serve with garlic butter so that people can add or maintain the garlic flavour according to their tastes.
Main was confit pork belly with pureed and roast honey beetroot with a reduced jus (let's just call it "sauce" given that it was supposed to be an English themed supperclub). I brined my pork in the fridge for 5 days and then confited the pork belly for 11 hours in duck fat. It was so wonderfully soft that you could pull the rib bones off the belly like loose teeth  – I was super happy with the outcome. In fact it was only on seeing the confit belly that I finally began to relax about the supperclub. A lot of the supperclub guests commented on how lean the meat seemed on the plate and its true that the slow cooking in confit does render out a lot of the fat. I'm not sure that this exactly makes the meat leaner though – sorry guys… The vege alternative was an equally artery clogging herb crumbed round of goats cheese fried in a pan to get it crisp on the outside and meltingly soft on the inside. And Caramelised onion gravy on the side.
Actually, with so many pots and pans on the go, at this point my diligent photographing of each course fell though so if anyone out there had any photos of the evening that they could send me, especially the main course and dessert course then I would be hugely grateful.
Skipping straight to dessert (I'm tired, I want to sleep soon), I made a tower of meringue, hazelnut cream, raspberry sauce, minted mixed berries and chocolate sauce. All was going well until I lazily tried to pour the chocolate sauce straight from the bag I was storing it in instead of putting in a jug. Alas, with little control over a squidgy bag, the sauce shot out and covered my decorative artwork with a cascade of chocolate sauce…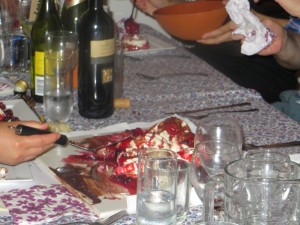 However to end the evening on a second sweet note (after a succession of savoury courses) I served up some smoked chocolate truffles, gin truffles and smoked raisin fudge. The fudge (after 4 attempts at making it) was really well received and so thankfully (just about) worth all the trouble it caused. The gin truffle and the smoked chocolate truffle divided opinion. It seems I've stumbled upon two chocolate versions  of Marmite all in one night. People either loved it and adamantly defended it or found the flavours too intense for their liking. Next time I might tone down the amount of smoked chocolate I use and the amount of gin I use in each truffle and try to find a happy medium – if it exists.
Anyway, all in all a good night. Thanks again to everyone who made this night happen. And its happening again (Argh!) on Sunday 25 August. Theme: Mesoamerican Mexico (provisionally named until I think up a better one) and I will post a menu up soon.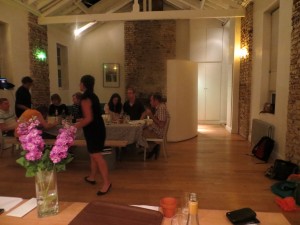 xx