A weekend can change a lot. I've just had my supperclub and although my fingers are itching to post about that and how it went, I am resolutely sticking to chronology (my recent out- of-synch post on week 2 aside). End of the week at Ashburton has been an odd one for me. Honestly, I'd been distracted by all the eventualities and possibilities of the supperclub. I was scribbling lists, typing lists, emailing lists and thinking new ones up in my head all the time. A problem it seemed could be solved by a list and so while chocolate fondants were being baked in the oven on Friday afternoon I was on my bike in Ashburton town centre looking for the perfect green and orange tomatoes. A key bullet point in at least 4 of my 8 lists. I had a list of all the things to take with me from Ashburton to London, a list of all things I needed to do in London once I arrived on Friday evening, a similar list for Saturday and Sunday. I had a list of components for each dish and a list of non food items to take to Ed's flat (the venue for the supperclub) and a list of food items to take to Ed's. But why am I writing about this? This is a post about end of week three – anyway you can see how distracting thinking about lists really is!
We made some fantastic lamb cutlets from a rack of lamb. We French trimmed the lamb ourselves with the joyful accompanying sound of bone against the metal knife and the group on my bench did such fine French trimming that it spurred me vigorously into action with plenty of frenetic bone scrapping on my part so that I was rewarded with four milky white bones skeletally protruding from the flesh. Yum
With the lamb we were to serve a tian of Mediterranean vegetables. Now I have seen tian of vegetables in recipe books the world over and I am thus happy to report that vegetable tians are not difficult. And they look so pretty. Firmly (but neatly), poke your chargrilled vegetables into the mould in layers and bake.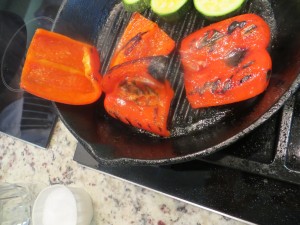 On baking the vegetables should shrink so its fairly simply to remove the mould. And that's that.
Along with out super simple tian was the super difficult lamb, the French trimmed rack itself was one of the most expensive cuts of lamb and we were ordered to serve it pink which is fine with me – although after 8 minutes of cooking, I would say that in my case pink would be a polite euphemism for raw. Although I polished the whole thing off at lunch, so maybe I'll look into starting a trend for rare lamb? Or just cook it a few minutes longer. Either is good with me, although to be fair by lunchtime I'm staving.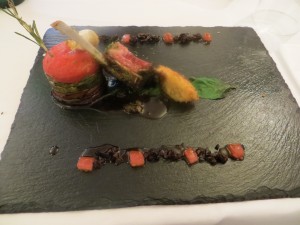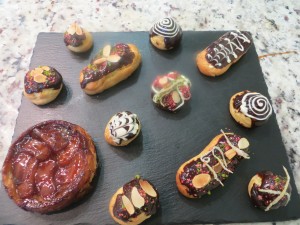 Actually the afternoon was a nice afternoon for me. We also made tarte tatin which is another thing I like to make at home. The precipice off which my tart always falls is always the pastry but on Thursday we were given a slab of readymade puff so it was a home straight really. If only the morning had been so easy…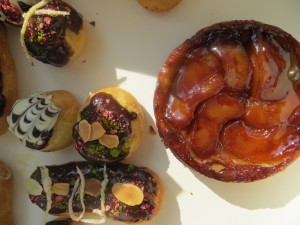 Still I've learnt to cook my lamb for a few minutes longer than 8 minutes (depending on size and feel – yes I know – but that will take more time to work out). I've learnt that adding brandy to your caramel (or variations thereof) makes for the most supremely delicious caramel that even on typing this post I am salivating.
And then it was home to eat choux buns. And to check my lists…