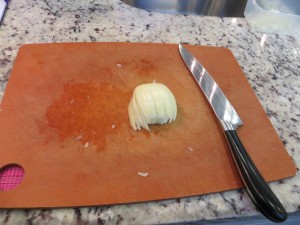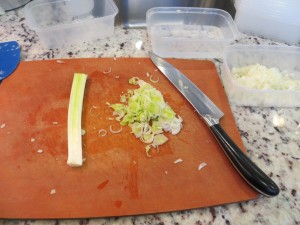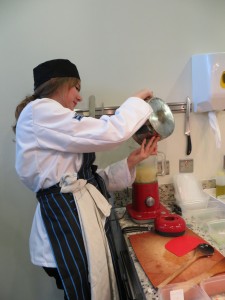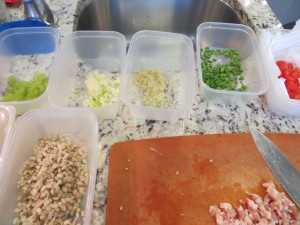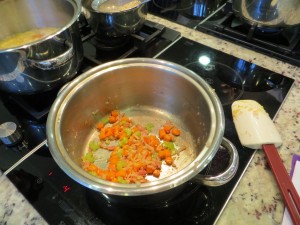 A day of firsts. First day at Ashburton Cookery School and first day of my blog. Its been a busy day!
So I started the day meeting my fellow students and our tutors explained the format of the week ahead.  Disappointingly the first week is a little sparse on the take home goodies side of things but the subsequent 5 weeks more than make up for it (lemon drizzle cake, treacle tart, Bakewell tart in week 2…) The pot belly is an inevitable eventuality I fear.
We learned to cut vegetables in this afternoon; onions, shallots, fennel, leeks, carrots, tomatoes, garlic (the list of vegetables go on but I won't bore you).  I got really quite (over)excited at all this and maybe overdosed on the number of photos I took of my cut vegetables (the pictures I've attached are only a tiny selection!).  Spot the julienned, brunoised and paysanned vegetable. No prizes given to the correct answers. Aren't the tomatoes rather well concassed? And the macedoined carrots are really quite attractive no? Ok, fine, enough of that. Anyway, then we sweated the chopped vegetables and blended to make a Vichyssoise (beautifully demonstrated by my classmate in the above picture).
Fascinating tip of the day is that if you want to cut onions like a professional, you leave the root end of the onion in place while slicing the onion (taking care not to slice the root itself, as shown in the picture above). That way, the root will anchor the slices so that the onion doesn't fall apart while you're chopping it and you can simply chop off the root at the end. Make sense? Yep… fascinating!
Anyway the pictures will become less focussed on cut raw vegetables and more appealing (we're making chocolate pots and scones on Friday) but in the interim we're doing a classroom study of germ dissemination – otherwise known as food hygiene so no pictures you'll be pleased to know. And no Ashburton posts until Friday probably unless a particular aspect of food hygiene speaks to me.
Till Friday then.
Yohini x