So that expanding waistline that I was anticipating? Well it began today. I made a summer veg tart with a shortcrust pastry and double cream quiche filling. To accompany, I made in class a no-holds-barred full fat mayo coleslaw with a mix of meditaranian vegetables, drizzled with olive oil and toasted nuts.
And dessert (because one must always have a two course lunch) was a chocolate brownie with custard. Teardrop custard that is – which basically means a wobbly line of chocolate shaped into a teardrop (or in my case, a pear) into which a thin layer of custard is poured. Now if you ask me, anything that comes with custard should be served with a jug of the custard on the side which should be so good you want to see people necking it from the jug. But anyway, I like the idea of the chocolate teardrop although its execution proved problematic and the portion of custard a bit scrimpy for my liking.
I didn't take too many photos today because I was concerned about inducing photographic fatigue upon my (imagined) audience and because I left my camera in the locker room this morning but I did want to show you my cream of onion soup which just involved blitzing and sieving some slow cooked sautéed onions and stock and a dash of cream but was actually surprising tasty. Although having said that, I find that most proper soups – made from fresh ingredients taste pretty damn good.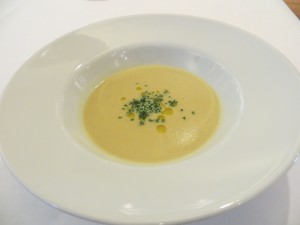 Anyway today we had a mock assessment of our soup, and in the name of consistency I though I would share the feedback. So…the taste was good but apparently it needed a tad more salt, the portion was too small (last time we had an assessment I was told the portion was too big…) and the chives garnishing the soup were bruised (yes, this is true, I need to sharpen my knife). The salt thing is a tough one. You see, I really thought I had enough salt in my soup. In fact I was a bit concerned that I'd put too much in and so its difficult to know what to do if somebody (your tutor especially) would prefer even more salt in the dish. I think, given that our tutor was generally happy with my dish, I'd leave the salt content as it is.  I do think its dangerous veering away from your own tastebuds and second guessing somebody else's because then you have no benchmark – everything becomes guesswork. I like my tastebuds and I do trust them, so there. And provided that the assessor generally approves of the dishes I make, I hope that come assessment day, he would cut me some slack regarding marginal variations in salt? We had a really enthusiastic course tutor this week though and its a shame it was his last day with us but tomorrow we shall have a new tutor with whom I can continue to conduct my salt experimentations…
Anyway enough chat, I've just got back from a boozy dinner with my coursemates and its really about time for bed.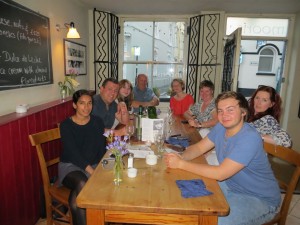 Night night.