I remain committed to posting. Absolutely. When I was ten years old I kept a diary with the intention of writing in it everyday – a tall order and I think I kept it for two weeks.  So its in these early stages that I realise that even with this blog, I'm not going to beat myself up for not post daily updates (especially given that I'm basically just posting to myself). But anyway, I'm still absurdly excited by all the new things I'm learning so let me go over in painstaking detail what I've done over the past few days here at the Ashburton Cookery School and you (really meaning me) will have to forgive me if in the future, my posts become a little less frequent.
Monday: A good day! I made a saffron risotto with wild mushroom and pears. I probably would add more pear next time and probably not sauté them in butter because I like the crunch and flavour of the pears raw. However we had the  risotto for lunch and the wild mushrooms were delicious – first time ever that I've had morel mushrooms and they are truly the king of mushrooms. If you want to talk about meaty mushrooms the discuss morels at length. Its just a shame that they are so eye-wateringly expensive to buy. If you do buy them however then you wouldn't go far wrong incorporating them into a simple risotto dish (although fry the mushrooms off separetly and add at the end to get the best out of them.
I also made fresh pasta and a mixed meat ragu.  I like making pasta although I have a fiddly machine at home with which the handle and the attachment keep falling off. But the handle and attachment were just as wobbly at the school and the pasta still turned out well so its given me more confidence (and more importantly, the motivation) to use my pasta machine at home more often now.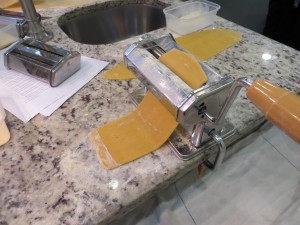 At the end of the day we were mock assessed on our pasta dish and I received positive feedback which made my day! I'm obviously too modest to relay the feedback exactly but I have helpfully included a picture of the dish with the written feedback attached…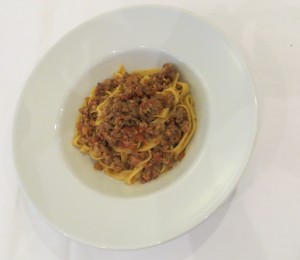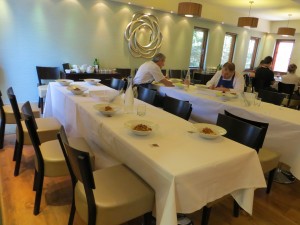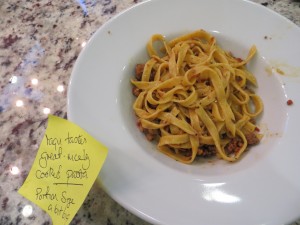 Tuesday: A medium day. Before Tuesday I had never made decent shortcrust pastry. By the end of Tuesday I have yet to make decent shortcrust pastry… Short shortcrust gives you a nice crumbly finish once baked, but frankly its pretty much as crumbly even before baking. You can add a little more water to get a moister dough which is easier to handle (cracks less and gives a nicer finish) but I don't like the idea of it. The texture is softer and less crumbly and I just don't want to make anything that's second rate (even though my method gives me raggedy looking tarts that looks like they've been glued together by a six year old).  It was the same problem today as always, I just wouldn't make a moister dough, I stubbornly made it as short as possible (i.e. as little water as possible) and voila a crumbly crappy dough that I had to patch onto the tart tin. We're making summer veg tart with it tomorrow so let's see how that turns out.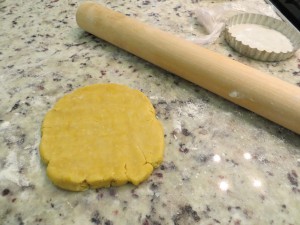 Also made baguettes today. Dough was much wetter than with the dinner rolls I made last week but that's how I like it. I've also started a sourdough starter as an after hours activity (a 2 minute job) so that I can make sourdough bread for the July supperclub but a bit early to tell whether it will take hold…
Tuesday ended well though. Last thing we made today was a lemon drizzle cake. Yum. I'd forgotten about cakes of this ilk. Why aren't all cakes doused with syrup after baking? Seriously. It makes the cake moist and flavoursome and oh so squidgy. I think I've finally found my calling – I'll start the Drizzle Cake Company: Lemon Drizzle, Lime Drizzle, Ginger Drizzle, Carrot Cinnamon Drizzle. I took the cake to a salsa class in Ashburton and one classmate even suggested I could get 50p a slice. So let's see…£5 a day, £35 a week (assuming no wastage) so minus cost of ingredients… £100 a year. Maybe I won't be turning drizzle cakes into a global phenomenon anytime soon afterall…