It feels like a good time to have held the last supperclub. Not the last supperclub ever, obviously. Hopefully. But certainly for the year and with no future dates in the pipeline, it's a nice chance to stretch my limbs (quite literally, 4 months of hectic cooking have left me with all kinds of aches and pains) and do a little cooking for myself and friends in the run-up to Christmas. Which allows me to think about what I would like to try to make instead of choosing dishes with a constant eye on the next supperclub's theme (fun at first but it gets frustrating).
So this month's last supperclub of 2013 was all about the USA, which I was pleased to do. So far most of my supperclubs have been European in focus with the Mexican supperclub being the only exception and while I've toyed with the idea of cooking something from further afield I simply don't have a mental database of tried and tested recipes in the way that I do with European styles of cuisine. Doing "Thanksgiving themed" food was an enjoyable compromise which let me exploit the variety of produce and styles which are associated with the US while remaining rooted in  European culinary tradition. From corn to lime and coconut, onion rings to savoury mousses, doughnuts to soufflés.
I also had fun with this US bonanza because although the USA is full of deliciously tasty food, it was challenging to make all this deep fried gloriousness into something refined. I got to make marshmallows, fudge, peanut brittle, red velvet cake, fried turkey, turkey mousse, chilli cornbread. All the random stuff that I've always wanted to try. And try I did (and sometimes try again, and again).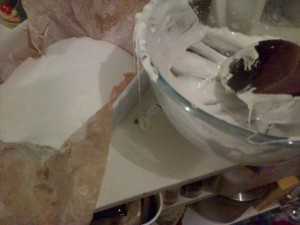 I'm also glad it's the last supperclub for a while because my photo taking has gotten progressively worse and worse. This month it got so bad, I didn't even bring a camera and so the only photos to grace your eyes will be slightly blurry ones taken swiftly via a camaraphone while plating the food. However, as usual, my friends didn't fail me – for this supperclub, I had help from my favourite supperclub regulars – Freddie and Gabriele as well as a new recruit, Terry. Everyone survived into the next day, all looking a little more haggard than before, but I'd put that down to the round of beers that finished off the evening.
First up was a selection of fresh baked buttermilk biscuits with 4 kinds of butter. I put my smoker to good use again and smoked some butter.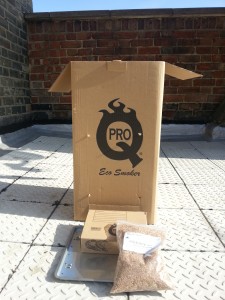 I also made pecan nut butter, a honey butter and a chicken butter (made with my chicken stock which I reduced down to a lovely wobbly jelly). The nice thing about these butters is that I had to whip the flavour into the butters which gave also it a lovely airy consistency.  I also made two kinds of buttermilk biscuits – one looked quite scone-like and was made with half self-raising and half plain flour and the other was made with all plain flour and had the appearance of a rich savoury shortbread. Its astonishing the difference just the use of different flours make to the finished product.
Next course was the official starter, a medley of sweet potato dishes.  Sweet potato in the USA is often called yam but changes it after having to "correct" people on numerous prior occasions to explain that I didn't mean the fibrous African white root but the yummy orange potato served as wedges in gastropubs throughout the kingdom.  The selection of sweet potato served was: a maple syrup and pecan sweet potato gratin, a sweet potato cinnamon tarte fine, a choux doughnut with a sweet potato cream cheese filling, garnished with some gigantic onion and sweet potato rings… A lot on the plate. Thankfully one can never have too much sweet potato.
The next course was the pre-main and a sweet corn chowder.  Sweet corn has a wonderfully sweet flavour and has a lovely fragrance if you don't cook it too much. The trick is to avoid that unpleasant starchiness that can come through from undercooking it (like you might have from raw potato). This chowder was indirectly heated through a bain-marie to warm it through and prevent its more starchy qualities. It's a thin line but the soup is worth the trouble to make I think – a lovely sweet subtle flavour – garnished with some chilli cornbread croutons  to give it that much needed kick.
Onto the main. In terms of timing, the main course verged on disaster. For me anyway. It was a friendly crowd that evening and people were pretty sated after three courses and happy to chat so either through politeness or genuinely unconcerned, nobody seemed to notice the passing of over 40 minutes between the collecting the third course and serving the main. I, on the other-hand, was poking my head in the oven on an almost constant basis so I'm surprised my hairline didn't cook through faster than the damn turkey mousses.  Everyone helping out with service was wonderful in remaining nonplussed/unbothered throughout and just getting on with the tasks at hand. So when the main course finally made its way to the table, I was puffed up with relief and pride. The vegetarian pumpkin soufflés lagged even further behind, requiring rather selfishly, sole use of the oven to bake and while I was anxiously eyeballing the oven door at this point, they rose and had a lovely custardy middle so all is forgiven.
Then it was a race to the end. Or at least it should be. Format of the supperclub always seems to be that frantic tension culminates at service of the main course and after that there's a moment of calm because at least with desserts, nothing is made just for service. The tart had been made earlier that morning, the ice-creams the day before, marshmallows and lime sweets has been made the weekend before. So it should be simple matter of plating and serving.
And in fact that's all it was. Red-velvet ice-cream, scooped and served without issue. Beers were already out in the kitchen, dessert plates in the fridge.
In fact the kitchen was so chilled that I got Gabriele and Freddie to start plating the million components to the "lime and coconut" salad: coconut marshmallow, confit lime rind, confit lime syrup, peanut brittle, crystallised mint leaves, preserved coconut, shavings of fresh coconut, fresh raspberries and coconut tuille. I have to say they made it look beautiful, they were vehicles of incredible precision that I've never attributed to them in real non-kitchen life. It looked like they've been waiting their whole lives to plate a dessert salad and now they had 12 to plate, it was Art on a plate.
To do justice to this salad, I planned to add a slice of coconut tart topped with a wobbly just set curd. If "wobbly just set" didn't sound like a dangerous ambition to  me at the time (and it didn't), it sure does now. Because the lime curd, as lovely as it tasted, collapsed on slicing and sauced itself around the tart and on the plate and edged messily close to Gabriele's and Freddie's plate art. Perfectly acceptable if the tart had been of the "self-saucing" variety (which is all the rage now, possibly) but inexcusable for those of the "wobbly , just set" category. Anyway, it does make me think I should write the menu in chalk not ink?
And so it ended. But not quite on that abysmal note. The petit fours came out and this month I made an effort to temper the chocolate which coated the truffles so that people could take them away with them if they were too full. Except this time I must have portioned better because most guests were happy enough off the petit fours there and then.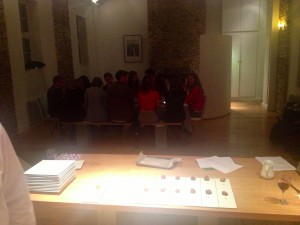 So a rollercoaster ride through four supperclubs which has seen my pacing and portioning get better. It's seen me get calmer and , while I've always over-prepared for these evenings, I do prepare with less stress and anxiety with each new supperclub that rolls round. I feel like I've learnt a lot about how to operate something on a slightly  bigger scale and given me a taste of "service" (which is hard to experience if you don't work in a restaurant). But I think next year, if I come back, I'll come back with something slightly different.
Ed (who's flat I hold the supperclub in) and I were discussing whether the scale of the flat would be suitable for a pop-up restaurant. Set menu of three courses and 30 covers. And something that attempts to financially viable. Now that sounds like a new challenge