I'm feeling short of breath, panicked almost – only two weeks left but what have I learnt?
Can you tell me what I've learnt? What have I said that's been remotely useful? I feel like I've spent too much time taking pictures and not enough time making notes. A friend of mine told me a few weeks back that she liked reading the "cooking tips" I'd learnt but I don't think I've put any up since then… So here is my summary of The Things I've Learnt:
1) Root vegetables should be boiled from cold water (except Jersey Royals). 2) "Above ground" vegetables should be cooked in boiling water. 3) If you are "sweating" vegetables, add salt 4) If you want to caramelise vegetables (i.e. brown them), don't add salt 5) Stocks should be made by adding the ingredients, bones etc into the cold water, then heating. 6) Fried eggs don't need to be cooked over high heat, in fact low heat frying ensures a more even, consistent result 7) Presentation matters, it makes the food more exciting. Exciting equals tastier. (This is a personal opinion admittedly) 8) Escabeche is delicious. (This is a fact) 9) Don't boil potatoes in salty water – it hardens the skin
That doesn't seem like very much does it… Well there's a ton of stuff I can do now. And the doing really matters to me because I feel like spend a lot of my time reading information but only reading. I love cookery books as much as – well -everyone. And I have my copy of McGree and Larousse. Accessing and applying information is my day job and while I can talk till I'm blue in the face about the different kinds of meringues, their properties and things to watch out for, I still can't stop unsightly beads forming on the base of the meringues. And I've read this has something to do with overmixing and/or undermixing and/or not mixing the sugar in thoroughly enough – but no matter what I do, the beads are still there. So I guess there lies the space between theory and practice (although meringues remain an unresolved trauma of mine which I'll have to get to grips with after the course is over).
Anyway, enough of the scattered thought-wandering, back to business. End of week 4:
Thursday was a seafood extravaganza, not that things are ever done my halves. When we do pork, we do pork for a week with two pork dishes a day, same with pastry, ice-creams, lamb everything. So no surprise that when we concentrate on seafood on Thursday, we prepare and fry squid scallop, cook our crab and stuff salmon, eat two our dishes for lunch and take the rest home for dinner along with the chocolate chip cookies.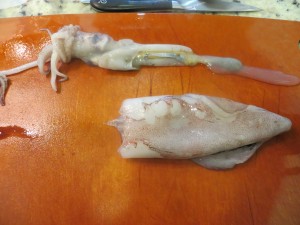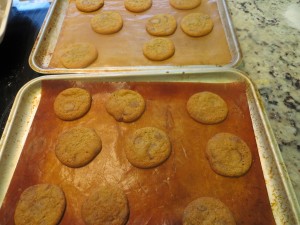 On Friday we carried on the theme of "extravaganza" and made two more desserts: carrot cake and lemon tart as well as two more seafood dishes, fried sardines with a Spanish stew and pork belly and lemon sole with brown shrimp.
We ate both seafood dishes for lunch and took the desserts home (which I promptly polished off for dinner). Two lunches a day and always a rich dinner. I'm exhausted every evening and I'm beginning to think its my digestive system that's struggling to cope.
Weekend will involves lots of cycling and a good chunk of the remaining carrot cake loaf.