I've just eaten the rest of my croissant dough as part of a makeshift pear tart tatin at 9pm on a Sunday evening so as much as the last teaching week calls for an outpouring of emotion and philosophical summation of the oh so crazy days. But I'm really too full and only able to recall the last teaching week in a vague haze – except for the sharp memory of my croissant making activities on Friday. I am very fond of croissants. Even now, with the doughy equivalent of 8 croissants in my belly.
This last teaching week has felt very much like a last week if that makes sense. Although this week has concentrated on game produce like venison and pigeon, our tutors have not assessed our plates as much and critiqued the results. That's partly because this week hasn't really included any dishes that we will be assessed on in week 6 and so although this week has been quite technical (lots of meat to be cooked medium rare, soufflés to be heated to a "barely cooked" consistency and making of our own croissant and brioche dough), the tutors have been fairly easy going in terms of presentation. I overcooked my venison and burnt my Danish pastries which provoked only a gentle rebuke from the tutor which I put down to the universally understood convention of last [insert given period] niceness.
All the things I was looking forward to learning were packed into this last teaching week and learning to cook game was really interesting. We got told about natural accompaniments for game – cabbage being one of them and its funny but now everywhere I look I see cabbage being paired up with game (I should clarify that where I'm "looking" is restaurant cookbooks and menus – yes I really do do that in my spare time). This week has also renewed my interest in beef wellingtons. We made a very tasty venison wellington but the pastry around the meat was wet and I really want to know how to prevent that. The tutor we had that day told us that he used to wrap the meat around some egg white pancakes, which were barely discernible. I've read that Michel Roux Jnr wraps his beef wellington with herb pancakes that form an identifiable part of the dish. Apparently spinach can be used. Although I don't see how that would work?
We butchered pigeon also and then pan fried the breasts and had that for lunch. We has some lovely caramelised walnuts and apple with that although I wouldn't have minded an extra accompaniment. Bit of cabbage maybe?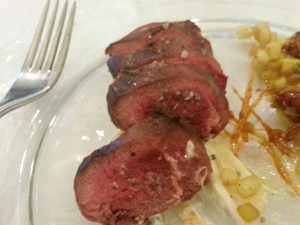 This week was also soufflé week and we made praline soufflé which has got me thinking about maybe doing a soufflé for a supperclub given that there not necessarily that difficult (except when you have 12 to prepare all at once so maybe I won't…). I was planning to serve cinnamon rice pudding mousse for my September Mexican supperclub and I'm having trouble thinking of a good non-gelatine based setting agent but The Square cookbook has a recipe for rice pudding soufflé which might work as an alternative?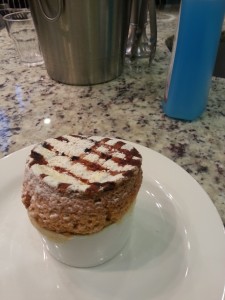 But Friday was the best day ever, the true grand finale. On Thursday we made our Danish pastry dough and the on Friday we got round to shaping our dough into every conceivable breakfast pastry.
Undeterred by the impending hardening of our arteries we soldiered on and made a steak pudding with a suet crust for lunch.  The presentation was maybe a tad too fancy which just didn't sit right with the presence of a traditional meat pudding on the plate but this was probably the most delicious thing I've eaten in the past 5 weeks and given that I've had so many tasty things here, it would be  contender for one of the most delicious things I've ever had -ever- except my memory is too poor to confirm.
To finish us off entirely then, we made a raspberry millefeuille. Well it obviously didn't finish me off entirely. I had to wait until Sunday for that.